EARSTUDIO HUD100 REVIEW
SOUND: 8/10
CONSTRUCTION&DESIGN: 8/10
PACKAGING&ACCESSORIES: 8.5/10
VALUE: 7.5/10

THE PLUS: Flat-neutral-uncoloured sound, good transparency, good single-ended power output, sturdy metal construction, low battery consumption, can play up to 32bit/384khz and DSD128
THE SO-SO:  Slightly cold sound, average imaging and soundstage, some distortion with bass at high volume, not the cleanness sound, not very textured or detailed, no volume control, no USB-C to USB-C cable included, not competitively priced
RADSONE (aka Radical Sound) is a Korean audio company specializing in portable audio solutions like audio IP for smartphones, digital audio decoding and audio hardware implementation. They are as well the creator of EARSTUDIO company which got good recognition worldwide for their excellent portable Bluetooth DAC-AMP, the legendary Earstudio ES100.
As a big fan of the ES100 myself, which I still use very often due to its excellent sound and powerful balanced output, I've been waiting for a higher-end successor that would deliver an even more powerful and beautiful sound. After a year of waiting, Radsone do launch the ES100 MK2, but it was the very same DAC-AMP with a minimal upgrade in construction material.
The waiting still continues, and Radsone surprise us by launching their first earphones, the HE100, while it was good and quite maturely tuned, this isn't what we were asking to Radsone. The fans dream about a flagship Bluetooth DAC-AMP from you guys, are you working on it, are you?
And then, the EARSTUDIO HU100 comes in the game. A super powerful and super small portable DAC-AMP, especially thought for laptop and tablet….great….but why too? Is it what we were waiting for? Hum, not really, not me at least. Well, apart that if the sound is fabulously clean and powerful and the device is very versatile and do not drown phone battery life and and…even then, I'm not sure I do really need this. Because well, it's 160$ and I just review a lot of excellent DAC-AMP dongle at way cheaper price like the Tempotec HD PRO.
But wait, it's now priced 135.99$ and it has an unbalanced power output of 3.2V and it's so small so so tiny small and the device look invincible. It might be interesting for some audiophiles that aim for minimalist DAC-AMP solution, isn't it?
Let's see in this review if the HUD100 can have a valuable purpose in your audiophile setup.
You can buy the Earstudio HUD100 directly from the official Earstudio website HERE.
SPECS
INTERN
The HUD100 might be small, but the intern is a complex micro-environment of 8 layers circuit design that uses the latest technologies to take full advantage of DAC implementation. At the core, we have an AKM AK4377 DAC that supports PCM stream up to 32bit/768khz and DSD256, but the HUD100 is limited to 32bit/384khz and DSD128. This DAC is the first to adopt an ARM cortex processor, which permits to implement Radsone proprietary digital audio algorithm for fast and precise sound decoding. As well, the HUD100 uses a MEMS oscillator as the master audio clock, this oscillator is more advanced than the crystal oscillator used with most DAC and delivers extremely low jitter so the signal conversion from digital to analog is free of any distortion.
PACKAGING&ACCESSORIES
I was very underwhelmed by both the product presentation and accessories of the EARSTUDIO ES100 and I most admit it did improve a lot with the HUD100. It comes in a solid box and when you open it you see the HUD100 inside a cute little leather carrying case. In terms of accessories, you have 2 USB to USB-C cable of great quality, but no USB-C to USB-C cable to hook the HUD100 to your phone, neither a USB to USB-C converter. I can see this as a problem for those who haven't already proper cable to connect the HUD100 to their phone.
CONSTRUCTION&DESIGN
The HUD100 is as big as a matchbox, it's really small at only 4.5cmx3.2cm of size. Construction is all metal and the finish looks quite scratch resistant. In hands, this feels very solid, with no loose part. The switch is made of metal too, but the 3 steps lack a bit of proper click. On the front, we have everything: two 3.5mm output with the sound filter switch in the middle. Audio jacks are made of plastic but feel sturdy and of good quality. For its miniature size, the device has a good reassuring weight.
DESIGN is simple, you have the USB-C connection in back side and connection in front. Unlike other DAC-AMP that need high gain to be selected either by a switch or option, the HUD100 permit you to directly connect your headphones into low or high gain output. Depending of your need, you will then choose Bypass mode or a sound filter that will suit you. Their no volume control, no possibilities to change tracks or play-pause, which is quite a bummer and make you fully dependant of your laptop or phone for music control. I guess the small size obsession does not permit for such control, but I find this cumbersome.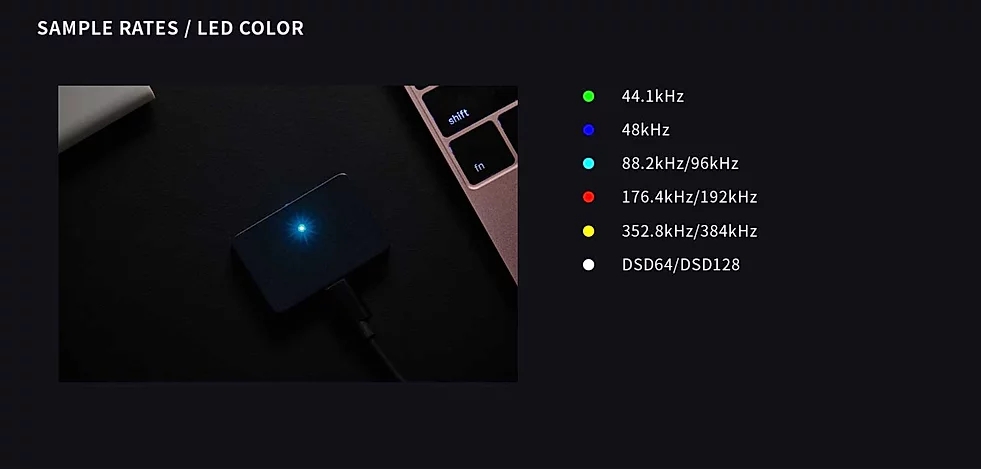 In terms of interface, you have only the filter switch to play with. An interesting feature is a little led light that changes color with the music sample rate. It does work properly and I discover I have a lot of 48khz album as must of the time it's a dark blue light that comes up.
CONNECTIVITY
After having installed the window driver, the HUD100 gets automatically recognize from my SurfacePro and works perfectly without any clicking, jitter or sound cutting. Using a good USB-C to USB-C cable, it gets recognize automatically by my phone and I was surprised to see it do not drown phone battery a lot, as after one hour of use my LG G6 battery lower by 10%. I don't know if it's me, but I feel the sound is slightly less loud with my phone comparing to my laptop. Unlike ES100, you do not have a dedicated app so you can use and custom every feature of HUD100, to me this is a serious drawback because ES100 app is a game-changer in whole users' experience.
AMPING
We have 2 types of power output with the HUD100, the low gain deliver a max of 1.29 volt per channel while the High Power mode (HP) deliver up to 3.2 volts per channel. This is what Radsone stated. Audioscience measurement show 23mW @ 33ohm for low gain and 138mW @ 33ohm for high gain. This is about the same power output than ES100 when used balanced. Though this is impressive amping power for unbalanced output, it's still not enough to drive anything above 300ohm or capricious low sensitivity headphones. For earphones, it will drive mostly anything properly.  The low gain mode is very useful for sensitive earphones prompt to hiss, and the low output impedance of 0.31ohm promises good clarity free of any hiss. Still, this impedance isn't top of the line as I tend to be more confident with an impedance 0.1ohm or lower. To my ears, the amping stability is just above average for its price range, but not particularly stable in low frequencies which demand a lot of currents, this means that the HUD100 can act weakly with too hard to drive headphones or earphones. This does happen too with its ES100 predecessor but to a less extent.
SOUND
The overall sound of the HUD100 is flatter than flat, with lean bass, slightly dry timbre, good transparency and not the cleanest black background. It has an intimate feel to it with good wideness but average tallness and deepness. Imaging is rather average too, and to my ears overall tonality has a "digital" feel to it, slightly cold especially when used in BYPASS mode. It's not what I would call an analytical sounding DAC-AMP, because they're a hint of warmth in resolution, which perhaps is there to mimic naturalness. So, why do I find it cold sounding? Perhaps because timbre tends to be dry and thin as well as dynamic impact slightly tamed. It's hard to explain and the IEM or Headphones your using will react differently to this. Simply put, it tends to "discolor" the overall sound rendering of your pairing, as well as sometimes improving (taming?) bass and treble control. As said, Flatter than flat.
CLARITY does not blow my mind, it isn't very sharp and does not "add silence" that will improve instrument separation. With sensitive IEM, higher is the volume lower would be the clarity and at high gain, if you try to drive demanding headphones it will perhaps create distortion in the lower bass region as it struggles to deliver stable current. Macro-resolution is quite good, but micro-resolution isn't very crisp and revealing.
BASS is slightly recessed in sub-region, it has a slightly brightish-dryish timbre and extra texture that help delimitating bass notes. Midbass has a good impact with extra control to it, this tends to improve the presence of mid-range by keeping it clean. Lean is the bass and smooth is the impact, it's not the kind of DAC-AMP that adds extra energy to bass, and in fact, it will render your basshead IEM more docile and polite.
MID-RANGE is impressively clear, smooth and transparent. It's not very thick, timbre isn't very textured, giving extra softness to vocal resolution and perhaps lacking a little bit of grain for extra nuance. Presentation is rather intimate and centered, it's not very open and holographic. Again macro-resolution is better than micro-resolution, as the music is decoded in a flat way, not in a vivid super-articulated way. The impact of the piano notes does not gain extra weight and the violin strike sound more organic than abrasive. The highlight of mid-range it's his transparency and cohesive fluidity, it sound tonally right tough not injected with extra life or energy.
TREBLE is quite natural, perhaps the less "digital sounding" frequencies range of HUD100. Highs are crisp with good brilliance, decay is fast and you do have extra bite in upper highs so some micro-details became more sparkly. Anyway, it's not highly rich, textured or detailed treble and even has laid back feel to it apart from extra upper highs that tend to add a little bit of air. Highs are on the thin side, and lower treble isn't extracting a lot of sound info that will add nuance and texture to the instruments.
DCT Filter SOUND is slightly warmer and thicker, but it's extremely subtle. Bass became a little loose and give some extra meat to mids and vocal. Treble is less sharp and sparkly. Soundstage feels wider but less deep.
DYNAMIC Filter SOUND a little more vivid and punchy, especially in the mid-bass and mid-range. It tends to offer a more rounded up sound with a weightier attack for piano and drums. The overall dynamic is more lively, but this is extremely subtle and it take some time for your brain to discover this change. All in all, Bypass mode is the cleanness and more digital-sounding mode and as it's not the most revealing already, I don't see why I would make it warmer by using other filters. In fact, I would have preferred a bass boost switch instead of these 2 very minimal sound coloring.
PAIRING
WITH HIFIMAN SUNDARA (hard to drive Planar)
The HUD100 can drive the SUNDARA, but I need to use High Power mode at full volume. I'm quite impressed by the clean sound it delivers because it does not make any distortion with bass this time and the whole sound is very well balanced. The soundstage is impressively open for such minimal amping, it's very deep and imaging is extremely precise. Mid-range tend to jump even more at you while the bass keeps its punch and lose somebody and thickness. Timbre is smooth and transparent, even more, polished and liquid than amped with more powerful (but less clean?) DAC-AMP. TREBLE keep it's revealing micro-details and feel rightly balanced. The SUNDARA is driven at about 90% of there full potential, which is a little miracle in its own right. Nice pairing!
WITH AUDIOSENSE T800 (sensitive iem)
These are very capricious IEM that need a VERY low impedance output of at least 0.1ohm, the HUD100 being 0.32ohm it, unfortunately, makes the T800 act strangely. What happens is that sound became unbalance and more V shape and bass create distortion even at rather a low volume. The mids became more recessed and dry. Treble is more forward and grainy. Not a good pairing even using Low Gain.
WITH FINAL AUDIO E5000 (low sensitivity)
The HUD100 barely drive them at full potential, the bass did dig very low and sound is full with good dynamic but not completely open even using High Power mode. If I push at full volume, the sound will become less clean and bass can distort. Overall imaging isn't improved, and mids feel slightly more recessed. Bass isn't particularly well controlled and struggle to offer a natural extension. Treble feels a little more forward but affect tonal balance too. This is a decent pairing, nothing more.
WITH DUNU DK2001 (easy to drive and versatile)
This is a good pairing wich is fully driven at Low gain. The background isn't the blackest one. Soundstage gain in deepness and imaging is very precise and even improved because of higher bass. DK2001 lows tend to warmth overall mid-range with a lot of sources but not so much with the HUD100 wich tame its sub-bass boost and make overall bass more controlled and balanced. MID RANGE is clean, detailed and improved in layering. TREBLE gains some extra snap and brilliance. This pairing is excellent.
COMPARISONS
VS EARSTUDIO ES100 (100$)
Priced 100$, the ES100 can be used as Bluetooth DAC-AMP and USB DAC but is limited to 24bit/48khz, so no DSD or hi res codec. The APP that comes with it permits to select 4 sound filters, use a great EQ, select dual gain mode which delivers double of power output than HUD100 when using balanced output (6.4vpp vs 3.2vpp). The construction is a little rubbish as its all plastic apart from the shirt clip. It does have button control for everything, unlike the HUD100.
In terms of sound, as it's more powerful it can drive the SUNDARA at a higher volume in balanced mode, the overall sound is more textured and detailed but not as deep as HUD100. SOUNDSTAGE feels wider with ES100 and the bass is slightly more present due to better texture and dynamic. IMAGING is sharper, more analytical and holographic with ES100. CLARITY is higher with the ES100, tonality sound a little brighter too with more grain in timbre. The whole sound is more vivid and lively with the ES100, making the HUD100 sound flat and laid back with some extra highs presence. Timbre is a little thicker but transparency is better with HUD100.
All in all, while the HUD100 can play higher bitrate music, I still prefer how sound 16bit/44khz flac files fromES100 than 24bit/96khz files from HUD100. ES100 is more aggressive and energic, while HUD100 is more liquid and transparent.
VS FIIO BTR5 (140$)
Again, this is a Bluetooth DAC-AMP, this time it use dual ES9218P DAC and delivers 240mW @ 32ohm which is more powerful than HUD100. Construction is excellent, but about 2 times bigger than the HUD100. The unbalanced output of BTR5 is near 2 times less powerful than the High Power mode of HUD100 (80mW vs 140mW).
In term of sound, the HUD100 is more flat and transparent with deeper soundstage, the BTR5 has a wider and taller sound with a more holographic around your head spatiality. BASS is notably more present in sub-region with the BTR5, it's thicker and has more punch and rumble and texture. This makes the tonality slightly warmer too even if the overall resolution is on par with HUD100. Mid-range sound fuller and more forward with the BTR5, attack have extra weight and timbre extra thickness the HUD100 cruelly lack. TREBLE sound more balanced with BTR5 and dig more sound info in lower-mid treble region which permit to offer a more natural and nuanced sound. The HUD100 is a little airier and has more air between instruments, the upper highs are more sparkly too.
All in all, BTR5 sound more natural and neutral to W shape while the HUD100 sound colder and more neutral to V shape. I think HUD100 has a blacker background noise floor too, but only when with headphones or earphones it can drive properly.
CONCLUSION
The EARSTUDIO HUD100 is a very capable DAC-AMP for its size and delivers a very neutral sound with impressive unbalanced power output which can be useful for those searching a small DAC-AMP that will drive properly most of their headphones and IEM. It's ultra-small size makes it extremely portable and can be great for transforming your phone into a good audio source, still, the amping isn't the most stable one and can create distortion in the bass region, as well, output impedance isn't the lowest too.
I would be lying saying that I prefer the HUD100 over ES100, which is still a way better value even if it cannot play DSD. The HUD100 feel a little anachronical in today ultra-affordable DAC-AMP dongle world and the sound does not stand apart neither in term of details retrieval, low THD or cleanness.
If you really need to play high res music and do not want to use balanced IEM or Headphones, the HUD100 is a decent audio solution, but it's not an audio revolution like the ES100.