HILLAUDIO ALTAIR•RA REVIEW :


SOUND: 7.5/10
CONSTRUCTION: 9.5/10
DESIGN: 10/10
VALUE: 9/10
HillAudio is a Malaysian seller on SHOPEE that sell big diversity of budget audiophile earphones since about 3 years.
Lately, he begin manufacturing its own earphones line up, the Altair being their entry level, I have big hope that success is near the door for this new company.
They are know by audio enthusiast for its other more expensive model call the HillAudio S8 wich is a 3drivers custom hybrid consisting of 1 dynamic 10mm driver and a dual Balanced armature. Having received positive feedback and headfi reviews for this model, I was curious by the eye catching Altair•RA and how this 22$ single dynamic driver can sound.
I can already say i'm not disapointed by the sound and even more than impress by the remarkable construction and design of these very enjoyable budget earphones.
I wanna thanks HillAudio for sending me a review sample so I can satiate my curiosity as well as do this review without investing money, just time. All my toughs are without any BS and free of any monetary influence, I will keep my honnest subjectivity and have no difficulties to imagine I spend this little amount of money so there no lightness in my judgement that can disconect my price value judgment.
INFO:
Features —————
● Uses custom-grade resin material through the same crafting process as how professional custom IEMs / hearing aids were made.
● Higher quality craftsmanship with one piece injection moulding. The completely filled out cavity reduces unwanted resonances & distortions for a more consistent performance.
● Ergonomically designed shell which mimics the auricular of human ears, providing comfortable fitment with isolation as good as custom IEM.
● Refined acoustic sound chamber using brass material. Brass acoustic properties are well known and often used in musical instruments. The refined acoustic chamber improves sound density of Altair, giving a richer sound with more natural timbre.
● 10mm custom-made dynamic driver tuned for a balance sound with strong bass, clear vocals and crisp treble. Feel the music coming alive.
● Exclusively developed 4-core gold + silver plated OFC cable to match aesthetically and acoustically with Altair•RA. Reinforced 3.5mm plug with strain relief for greater durability.
● Holistic package content which includes: Altair
•RA, 4-core mixed plated cable, standard 6-core OFC cable (with mic), 3 pairs of wide bore soft silicon eartips, 1 pair of HillAudio C400 foam eartip, and a HillAudio storage pouch.
Specifications ———————– Brand: Hill Audio Model: Altair•RA Transducer principle: dynamic driver Transducer specs: 10mm with composite diaphragm Frequency range: 20hz – 20khz Impedance: 18Ohm Sensitivity: 103dB Connector type: MMCX Cable length: 1.25M Plug type: 3.5mm With mic: YES
CONSTRUCTION, DESIGN AND ACCESSORIES:

ACCESSORIES are very basic, but of good overall qualities. At least, you have an extra carrying case with the included silicone eartips.

CONSTRUCTION is seriously mind blowing with the ALTAIR and easily win both beauty and body builder contest in term of look and sturdiness. Quality of material is way above its price range and would be more expected from above 200$ uiem, its just this great. Saying I was impress its too polite for how freakin jaw dropping shock I was when i take these in hands and look closer at the details of craftmanship. This is real professional custom grade resin, no doubt about it. Its one piece molded and impossible to break physically. The nozzle is made of metal and inner construction look excellent with a sound tube connecting its dynamic driver. MMCX connector are extremely tigh and sturdy, prooving to be of superior quality too. In its own glory, this type of high end construction for an entry level uiem is just unseen and factualy unbeatable, as I own custom Westone ES2 using same type of material (non translucide), I can say this: the Altair have superior construction and finish housing than a 700$ professional custom. The cable in another hand is just above average the cheap one we can find with sub-100$ earphones, but again, I underline it: Above average, wich make it usable and not trashable like some cheap cable we are stock with in this price range.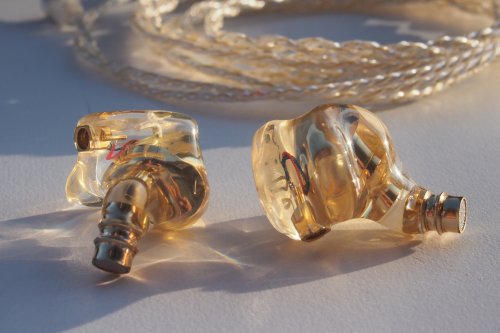 DESIGN, as we can expect with the big applause I made about construction, is just perfect in every way, should it be intense durability, comfort or noise isolation, it really do it all. The housing is indestructible and have a good weight to it, it have an organic shape that slip easily in ear due to the super soft resin material. Due to this well made universal shape, you can wear the Altair for long time, even if quite big in size, the long shaped nozzle will fit nicely most type of ears. The thick air free resin plastic housing have a superior isolation with extreme passive noise cancelation, as well, sound leakage is non existent.
SOUND :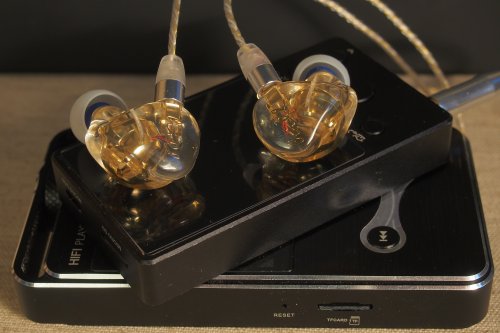 Overall sound impressions is even more positive now that I change the stock cable included with the Altair, because at first, the bass was overpowering, with most other cable I try the sound became more balanced-controled.
The quite big and airy soundstage is what impress me at first listen, after, it was hard to bypass the bass presence that have lot of weight and autority in lower end. Yep, where in warm U shape territory here, near basshead one but with a twist : the mid range is clean even if slightly recessed. This type of sound take me into old school memories where dynamic drivers was find in every eaprhone, its a easy too listen and permissive audio rendering, with light timbre and good transparency.
If your into analytical, bright or sharp sounding iem, the Altair will be underwhelming, but if you search of a versatile yet muscular sound with just enough details to don't sound too dark, this could be the one for you.
SOUNDSTAGE is above average in widnest and tallnest and just enough minimal deep to give an airy around your head sound.
LOWER END is emphased quite a bit, but do not sound boomy, it have big dark rumble to it wich can be good or bad depending of music you listen, for acoustic bass, it will sound a little sloppy due to lack of details in timbre, but for texture free bass line it would sound great. Bass extend low, extremely low. It's not the fastest bass presentation, typical of dynamic driver of this price range.
MID BASS have a smooth approach to it, wich help mid range to breathe but slow overall bass presentation due to sub emphasis. Its not very punchy, and quite warmed up too. Lack of details in timbre do not help for overall definition and make attack too loose. To me, the lack of punch would be problematic for rock and jazz, not for electro, rap or classical.
MID RANGE is quite impressive for the price range, and surely have a beautifully smooth elevated curve in frequencies response tuning, its the richer sounding range wich have the thickest timbre presentation. Vocal aren't sounding recessed and have great wide presence. They are more opaque than transparent, wich give them extra autority but stole imaging clarity and finess. The details are average and their a hint of dryness in texture, that avoid shoutiness but will affect body definition.
TREBLE is a little roll off, and have emphasis in lower range wich make the mid range brighter in upper range. Highs are crunchy with minimal decay but enough grip. Overall presentation is warm, with average details retrieval but pleasant natural thick timbre. This make the Altair very permissive for harsh recordings but prompt to over saturation and congestion with very intense complex music with multiple instruments.
AMPING isn't needed as these are very easy to drive dynamic driver, perfect for phone pairing or with low output DAP.
CABLE DO AFFECT sound quality quite alot, the included one make the sound bassier, brighter and little more detailed with mid bass emphasis. I find that good 4 or 8 cores SPC cable improve the sound in weight and give thicker timbre as well as better fuller vocal presence.
LOWER END : 8/10
MID BASS : 7.5/10
MID RANGE : 8.5/10
TREBLE : 7.5/10
TIMBRE : 8/10
ATTACK : 7.5/10
IMAGING : 8/10
SOUNDSTAGE : 8.5/10
COMPARAISONS :
VS TINAUDIO T2 (50$) :
SOUNDSTAGE of both earphones is very impressive, and the Altair even sound wider than the T2 wich have more deepnest and airier feel.
BASS is more impactfull and beefy with the Altair, it have more mid bass impact but less textured timbre than T2.
MID RANGE is thicker and more fowards than T2, but its warmer and less clear, wich give a better overall imaging to T2. Altair is sibilance free in upper mids while T2 create some time to time.
TREBLE is smoother, thicker and more opaque even if less detailed, wich is strange but perhaps the fact its a single dynamic vs a dual one explain this difference. T2 is more analitycal and have better attack-decay.
SOUNDSTAGE of the Altair is bigger and more around your head, while the E3000 is more intimate and in front of you.
BASS is more pumped up with the Altair, especially in lower end, wich give more body and impact but more rumble as well wich tend to bleed on mid bass and be less controled than thick tigh bass of E3000. Control, attack and timbre is better with E3000, but the Altair is more energic and impactfull giving a more entertaining bass performance.
MID RANGE is warmer and slightly more recessed with the more V shape sounding Altair, still it have good clarity and thickness but the E3000 have a more fuller and natural timbre and the vocal mix less with other instrument, do not encounter as much bass bleed.
TREBLE of both this earphones aren't particularly detailed in upper range and have more emphasis in lower and mids region. The E3000 sound more detailed than the Altair and will crave more micro details. Instrument separation have more space with the Altair, but aren't as detailed than E3000. Here, we see how much refined is the dynamic driver of Final Audio.
In term of construction, the Altair is from another league and have detachable cable, but its way way bigger, so it all depend the use you wanna make with your iem.
CONCLUSION :
At 40$, the HillAudio Altair are just unbeatable when it come to the quality of construction and will worth the buy even if it sound 2 times inferior than what it is.
I mean, we do not talk about a 100$ earphones here, and still, in term of construction it can beat near all sub-200$ earphones I ever test or even see. This alone make me enthusiastly suggest it to anybody that search the perfect all arounder universal custom.
But this isn't all, the sound to stand appart in sub-50$ price range with its warm, spacious presentation that is near mid centric even if very bassy in lower end. Sure, this isn't details beast, but timbre is thick and pleasant as well as minimal bass bleed that warm the mid range without veiling it.
If you search the cheapest universal custom that have high end construction and a warm slightly mid centric sound that is versatile and musical, the Altair is most likely the best buy you will ever made in term of price value.
THE PLUS:
Remarkable construction
Warm and energic sound with good musicality
Very comfortable
Excellent price value
THE SO-SO:
Average clarity
Included cable do not extrack full sound potential
TO NOTE: International buyer are welcome but need to contact directly the seller, either on its FACEBOOK PAGE or its email (Hillsonicaudio@gmail.com).